Sioux-Preme website
Basic information
Capacity per day: 4000 head

Hours/day of operation: 8-10 hours/day, one shift

Weeks/year: 52, less 6 holidays

Species: porcine

Services: pork harvest, fabrication, offal harvest, rendering, commodity sales — No grinding, curing, or smoking

Square feet: 137,000 sf (total of 2 plants;Fab plant 45,000 sf)

#/type of employees: 290 hourly team members, 40 administration

Annual sales revenues: $150 million

Price of services: basic @ $15/head; up to $35/head for high-level value-added; they keep offal

Operational costs: $13.75 – $31 per head

Retail on-site: no

Wholesale: yes

Inspection: USDA

Certified organic: yes

Certification agency: Oregon Tilth

Custom work: Specialty cuts (restaurant-ready, retail-ready); research/pharmaceutical supplier; university and industry testing/research

Source verification on label: verified by livestock producer affidavits, segregation
The market opportunity

The original Sioux-Preme plant began harvest operations in 1970, in a "hog-rich" area of Sioux County, so that local farmers would not have to haul their animals long distances for slaughter. In the mid-1990s, as the company was considering how to differentiate itself from its large-scale competitors, it was offered an opportunity to do so: processing for niche pork companies, starting with naturally raised (no hormones/no antibiotics) and expanding to organic and breed-specific programs.
The people/organizations involved

Sioux-Preme was originally started by 4 or 5 individuals, who have since sold to the new ownership group. The company is all privately held.
History and development

Sioux-Preme Packing Company was incorporated and built its first plant in 1969 and opened for business in 1970. It began as a "carcass only" provider to national and international markets, supplying carcass hogs for further fabrication.
In 1990, they had their first exposure to fabrication and marketing, with a joint venture with Farmland Foods: Sioux-Preme provided the carcasses, and Farmland handled fabrication and sales. After the five years, the venture ended, but Sioux-Preme decided that fabrication capacity was essential, so they designed and built their own facility, still focused on commodity pork.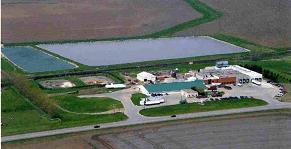 In the mid 1990s, as the new facility was getting up and running, the company was realizing that to continue trying to do what the large packers were doing more efficiently wasn't a good strategy. "We were trying to brainstorm some sort of differentiation that would provide a viable future and fulfill a need that wasn't getting done at the larger facilities," explains Jim Malek, Sioux-Preme Vice President. "We were looking for something…and these opportunities came."
Up and coming niche pork companies – including Niman Ranch and Beeler's Natural – were outgrowing the locker plants where they started. Large-scale processors wouldn't take them. But in Sioux-Preme, they saw the opportunity to ramp up. They were also attracted to Sioux-Preme's mid-scale size, speed, and flexibility, which better fit their own operations. From 20-25 hogs/week at the start, niche pork has become an increasingly important part of Sioux-Preme's business over the last decade, including certified organic (Organic Prairie) and breed-specific programs.
"We took time to listen," Jim says. "We could be flexible. That's what helped us engage with these relationships."
The niche-oriented side of their business has grown 10-15% annually over the last 5 years and now accounts for 60% of Sioux-Preme's business. The other 40%, commodity pork, helps fill the gaps and minimize exposure when niche markets are seasonally slow or down for other reasons. They sell this pork primarily into export markets and mid-scale grocery chains (5-10 stores). They would like to increase niche to 80% of the business. But diversification within niche is still important: Jim warns would-be processors against focusing on one niche area, like organic or grass-fed.
Jim joined Sioux-Preme in 1995, after 17 years in conventional, large-scale processing. "It was definitely a paradigm shift for me." They had to be flexible, segregate product, check and double check runs every day, understand each customer's needs, interrupt production to meet those needs. It was an adjustment, but it only took him a year to accept and embrace the new paradigm.
Funding sources

Until 2000, the company was funded through private investment and traditional bank loans. Since then, they have had two capital partners to help support facility upgrades, including animal handling compliance, CO2 stunning (begun this last year), and other equipment purchases.
Being niche-focused does not appear to have given them any advantage with investors. "We're looked at as part of the large industry segment in the world of lending," Jim explains. It is difficult for potential investors to grasp the model of specialty business, since conventional industry trends don't always correlate.
Business plan

As discussed, the business plan has evolved since the plant opened in 1970. Currently, plans are in place to increase niche products to 80% of total activity, either through expansion of their current customers or by adding new customers.
As a mid-sized plant, with a "real time" production system, Sioux-Preme has the flexibility that large facilities don't. This means they can quickly adjust production to meet current market demand. A customer with 1000 head of hogs may want four or five different types of loins – e.g. center cuts, French racks, boneless loins, whole loins – out of each run of carcasses. There are about 20 different styles of ham alone. "To change your personnel around to handle those different cuts in different quantities just plain takes more time." Each needs different packaging, labeling, shipping boxes, etc. Additionally, Sioux-Preme can pack the same item many different ways, such as 3 to a box, 10 to a box, or a combo bin. In this way, they are producing what their customers can sell. "We're supporting their marketing program." Sioux-Preme had to purchase new labeling machines in 2008 to accommodate all the options they offer. Their previous system maxed out at 20,000 labeling options.
To do all this, they have to know what it costs to produce each specialty item. A large scale facility may do only one item for 10 hours, and it's easy to calculate an average cost. Doing small segments requires more in-depth costing analysis. But menu pricing lets them create the proper revenue stream. Production line time, packaging costs, and yielded meat costs are all analyzed to help Sioux-Preme and the customer know how the finished products must be priced.
Clients can purchase the offal if they wish. Otherwise Sioux-Preme keeps the offal, which (at the time of this interview) sells for $5-7/head – this is not all profit, as offal reclamation does have a cost. All offal is fully processed by Sioux-Preme in-house, with the small exception of some further processing for hog sausage casing production with the small intestines. Sioux-Preme even does its own rendering. With respect to by-product processing, they are very similar to a large packer.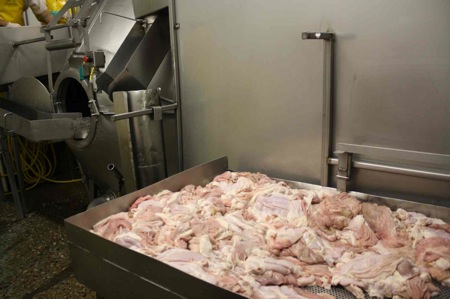 Deciphering regulations and complying

As a mid-sized facility, Sioux-Preme hasn't had any difficulty complying with regulations and has had good relationships with their inspectors through the years. When they started with niche pork, they had to work with USDA to understand the rules around labeling, for example what ingredient information had to be submitted for specific labels like organic. It took a lot of communication with USDA, but they got it sorted out.
Similarly, to process hogs for Organic Valley, Sioux-Preme had to figure out organic certification for an existing plant.
Their most recent HACCP training was done at University of Nebraska.
Plant design

Both plants were designed by professional design firms, including the Klinger Group, and the designs were influenced by Temple Grandin's animal-handling methods and systems.
If they'd known then what they'd be doing now, Jim says, the plant would look different, They would have increased some lines dedicated to further fabrication and value-adding of bellies, hams, and ribs, as well as table space for further fabrication and value added. And with all the different packaging materials, they could really use a centralized packing area with distribution conveyors. They're now making many more, smaller packages than with commodity meats, which came in fewer, larger units. Designing some "growing room" would also have been beneficial.
Big Glitches and how they were solved

There haven't been any serious glitches. "We continue to evolve and revamp our facilities to accommodate extra requests by niche marketers. They've really helped us find our focus by giving us their expectations."
In the past, there have been some growing pains – e.g. scheduling gaps – but the plant has had commodity production to fill those gaps.
Equipment required

All equipment purchased has been standard. Most of the conveyor belt equipment was purchased from suppliers of large plant equipment. Sioux-Preme has needed additional bandsaws, wizard knives, and skinners for further dissection for the value added products. No specialized equipment is needed for organic processing.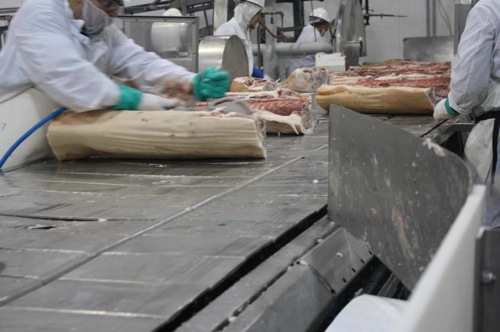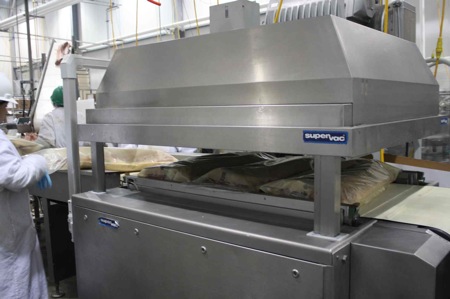 SiouxPreme added a new CO2 stunning machine in 2008, to replace electric stunning. The advantages of CO2 are: more humane harvest, less stress on the animals before harvest, less blood splash and bruising, and improved meat quality.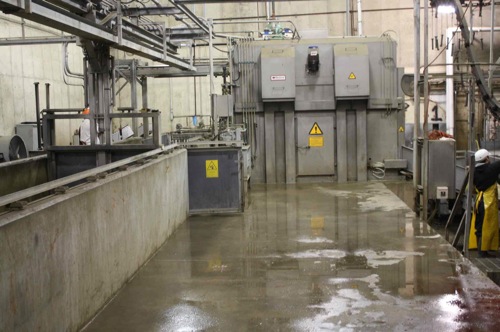 Staff needed, how they were found and trained, and what they cost

They have 290 hourly team members, and 40 in administration. Sioux-Preme is located in an "industry-concentrated" area of Sioux City, which attracts many people looking for this kind of work. Some arrive already skilled. 40% of their staff are the highly skilled core group, primarily those on the harvest floor and boning room. The other 60% are less highly skilled, entry level. Employees don't rapidly move up from low skilled to highly skilled; some are suited primarily to work in packaging and shipping. As employees show an interest in boning, they are offered a trainee opportunity.
The pay scale is $9.50-$13.75/hr., with benefits including health care (after 60 days on the job), a 401k retirement plan (after 6 months on the job), and paid vacations.
The company retains its highly skilled employees but 3 or 4 lower skilled jobs may turn over every week, translating to about 100% turnover per year for the lower skilled jobs. Seasonal construction work pulls away a significant group of their employees each year. The company prepares by trying to hire "ahead of the curve" as the season approaches.
VP Jim Malek believes that the flexibility they offer their customers also benefits Sioux-Preme employees. Someone who worked as a ham boner at a larger facility won't just do that all day but can have a change of pace and can work around different people, rather than stand in one place on a line, day after day. Additionally, the line speeds are slower, ranging from ~215 to 400 an hour, depending on how the carcasses are being processed. This is less than half the speed of a large-scale plant where speeds can exceed 1000 hogs per hour.
In regards to their administrative employees, Sioux-Preme is large enough to have dedicated QA and marketing staff, but small enough that everybody still knows everybody else and things don't slip through the cracks because no one claims responsibility. There is a workplace culture of teamwork and accountability. Particularly in the fabrication plant, where the accountant also takes care of company cellphone plans and the QA Supervisor works directly with customers on their cutting instruction. "Everybody does many things around here. In this way, we're a lot like a smaller plant" says Todd Petersen, Plant Manager of the fabrication facility. There also is an emphasis on plant administration knowing the "floor jobs." "Our job is to make sure the guys on the floor have everything they need to do their job. So we have to understand their jobs," explains Petersen. "I need to understand that if I've got one guy with a hole in his glove, his universe is the table in front of him, his knife and his gloves, one of which has a hole. I need to get that guy a new glove ASAP." Petersen came from a big plant and said working for Sioux-Preme has changed the way he interacts with people.
Financial sustainability plan

Sioux-Preme has been profitable every year since the company started in 1970. With the current economic downturn, export markets have dried up a bit due to changes in currency exchange.
Keeping cash flowing and people busy during seasonal slow times

The summer is typically slower, but they manage inventory to keep it flowing. To retain employees, the company has a 36 hour guarantee – workers will be paid for at least 36 hours/week, whether the plant runs or not. It's been five years since they've had to resort to that, however, with present averages of 46-50 hours/week. They've been very busy.
Markets accessed

The niche pork companies do their own marketing and have certainly been able to expand their reach by working with a mid-scale processor. Sioux-Preme sells its own commodity pork to small/medium supermarket chains (5 to 10 stores) in the Midwestern cities and exports some internationally. The company also provides a market for the commodity products left behind by the specialty programs.
Through the niche processing, they've also begun to develop new relationships with specialized stores like The Wedge Co-Op (Minneapolis), Trader Joe's, and Whole Foods.
Lessons learned

Sioux-Preme is often approached by potential custom clients who think they have a special product but haven't found a buyer. "Have some idea of your focus," Jim advises. "If you don't have a buyer for it, it won't matter what it tastes like." Sioux-Preme also helps producers with costing models, understanding carcass utilization, and getting the whole carcass sold, which is key to spreading the cost over a lot of products.
Sioux-Preme is best suited for operations doing minimums of about 50 head/week. Less than that means a too high cost/head and may be better served by working with a small-sized locker plant.