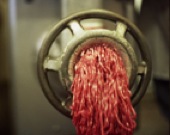 Paying a lot for workers comp? This page will help you find out if your employees are properly classified.
This page is for informational purposes only and does not constitute legal advice, nor does it make any guarantees regarding how your business should be classified for workers compensation rate purposes.
How Scopes Classifications Work
Rates for workers compensation are determined based on job risk. The National Council on Compensation Insurance (NCCI) creates a job risk rating and code for every type of job. Small meat processors are, of course, one of those types of business that have more than one clear code. And the code makes all the difference in the rate you pay. Here are the 5 codes in which employees in a small meat processing plant might fit and their example NCCI rates (fee per $100 in payroll) effective in Iowa during the 2009 calendar year:
CODE
2081

2089

2095

8021

8031

TITLE
"Butchering"

"Packing House – All Operations"

"Meat Products Manufacturing"

"Meat, Fish or Poultry Dealer – Wholesale"

"Meat, Fish or Poultry – Retail"

RATE
$10.89

$3.37

$3.86

$2.75

$5.73
These are example rates. Your rates may be higher or lower, but should be higher or lower in similar proportions, i.e. "Butchering" should always be far more expensive than the other codes.
Each of these classification codes has criteria that must be met in order for a business to be placed under that code. You will have to work with your insurance agent in order to determine where you best fit. In general, most small "locker" type meat processors should be eligible for code 2081 or 2089 (**THIS IS NOT A GUARANTEE**). Code 2089 includes slaughter, fabrication, and other processing. Retail employees may need to be classified under another code, such as 8031. Typically employees within the same business are only classified under different codes when there is physical separation between work areas. Ask your insurance agent for details about how your plant's employees are currently classified to see if you might be able to get a better rate.
NCCI Codes and Scopes
Click on a code below to see its specific scope of work according to NCCI (as of December 2008):
Resolving Code Classification Dispute
If you feel like your business is not being properly classified, NCCI has a two-tier dispute resolution system:
1) Free Dispute Review with NCCI Customer Service – This is an over the phone discussion regarding code classification criteria and your business operations. It is intended to provide clarification and may not influence the decisions of insurers.
2) Independent Inspection of Business – NCCI will send an inspector to your business to make an independent determination of the nature of your business and what code(s) you should be classified under. This option is much more likely to influence the decision of an insurer, but it costs $115/ hr. for the inspection and most inspections take 3-5 hours.
Both these options are available by calling NCCI Customer Service: (800) 622-4123.
Questions about Workers' Compensation should be directed to your insurance agent or your state's Worker's Compensation Bureau.
For more information on Worker's Compensation see this website. This is a great resource from Missouri.
Missouri Dep't of Labor and Industrial Relations, Workers' Compensation.